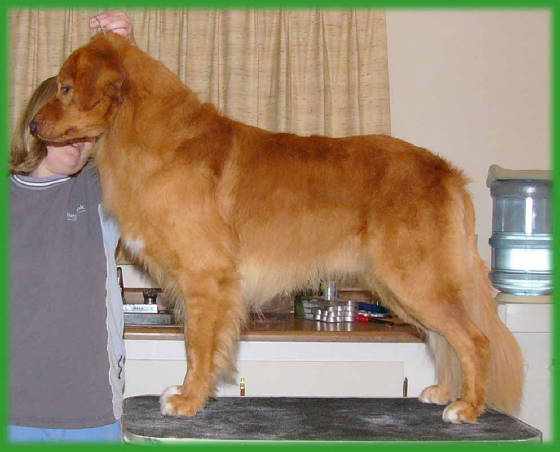 Sender
PRA A (CLEAR)
HIPS OFA good DTR-1012G27M-PI
THYROID OFA Normal DTR-TH137/21M-PI
Sender is pick male from the Driver X Splash litter born September 7/04. He was bred in Australia by Denise Jacoby of Ximinez Kennels. Sender is co-owned by Til Niquidet, Rebecca Roberts and Myself.
Sender is 20.5" tall at 12months. He is a very confident affectionate boy with a ideal toller temperment!
Sender has made his conformation DEBUT in Canada! His first weekend out with the big dogs he went BOS BOW and BP for his first 2points, followed by a 1point BOS WD win the same weekend! Sender then went BOW for 1point and BOS/BOW over the BOS regional specialty winner for 2points at the Merritt dog show. Sender picked up another 2point major at SDS where he went WD in a entery of 21 tollers. Sender finished his Championship on August 5th going BOW/BOS over a special for his final 2 points.
Sender is currently enjoying tracking training. He is a active member in his class and is enoying the sport to it's fullest. From what I hear he is a true natural! Sender earned his TD with co-owner Rebecca Roberts. These two make a wonderful team. Thankyou Rebecca for all you've done with our boy!
Sender is a proven sire and is available at stud to approved bitches.
| | |
| --- | --- |
| CH Ximinez Return To Sender | |