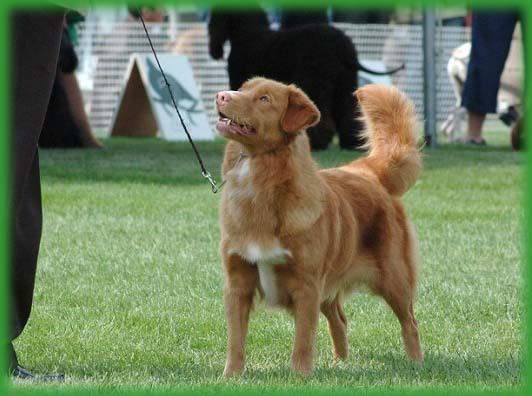 Blaze

Blaze is a beautiful female from Cayenne and Schooners first litter born on November 20, 2002. She is a dark coppery red with 4 white paws, a white chest, and white blaze. Blaze is 18" and 40lbs at 18months. Blaze has a very showy, independent personality that loves to work in the conformation ring.
Blaze was our wonderful dog that introduced us to the competitive side of Conformation. She is a all round girl who introduced us to every sport in dogs and got us addicted to the toller breed. She is a perfect companion and has been a exeptional mother. Blaze has been a wonderful addition to our breeding program. We are pleased to announce Blaze's retirement from breeding and showing as of September 2008.
Blaze began her show career at only 6months. She continued showing for her Championship between 6-10months. In her time showing she achieved a Best Puppy in Show, 3 Best Puppy in Groups, 2 Group 4th Placements, and 8 Best of Breeds. Blaze completed her Championship on the day of her 10 month birthday. Blaze ranked in the top 10 tollers in 2003 as a puppy going #9 Toller in Canada, #3 Toller Bitch in Canada and #1 Owner/Handled Bitch in Canada for that year!
Blaze was shown on a very limited basis in 2004. At just over 18months Blaze returned to the CKC rings as a special with 2 Group 4ths and a Group 3rd. She then made her next trip to the ring at 20months to the Regional Toller Specialty where she was one of three bitches cut for best in specialty show in a entry of 37 tollers. Blaze with very limited showing took BOS at Tradex just before her 2nd Birthday to her father who took a Group 2nd. At just over 2years in the Christmas Chilliwack show she finished of 2004 with a Group 2nd and a Group 4th. In limited showing Blaze was #4 Toller in Canada for 2004 and #1 Toller Bitch in Canada for 2004. Special thanks to Aaron and Sharon Andriash for helping handle this promising young bitch!
Blaze was specialed in Canada for 2005... For that year she had one BEST IN SHOW, one RESERVE BEST IN SHOW five Group 1st, four Group 2nd, six Group 3rd and five Group 4th to her credit! She is offically the #1 NSDTR in Canada for 2005!!! We would like to thank Blaze's judges who placed her in their groups and specialties for awarding this promising young star! I would also like to give a special thanks to Cynthia Seeling for letting Blaze and I travel with you over the summer months.
Blaze is being specialed on a limited basis in Canada for 2006. So far in her first few weekends in the ring she has recieved a Group 1st, Group 2nd, 3 Group 3rds and 3 Group 4th's! We are awaiting the 2006 standings. Blaze is currently semi-retired from the show rings as of October 2006.
BLAZE HAS BEEN INVITED TO CRUFTS AND EUKANUBA FOR 2007!!! Blaze hits Long Beach California in her bikini with her friends in 2006 and brings home BOS at the Eukanuba Invitational Show!!! Giving her a automatic invite to Crufts! Thank-you Kerri Van Eaton and Barnaby for letting Blaze and I hang with you for the trip down to the BIG show!
Blaze made her AKC debut at 17.75 months with a BOB 3point major and a Group 4th! In only 8 Shows Blaze finished her American Championship with a Group 4th, 3BOB including a BOB over a multi-group placing special, 2BOS, and 2WB! Blaze returned to the US rings after the national to take BOB both days in Albany OR along with a Group Cut in a VERY competitive sporting group. Blaze and a Irish Water Spaniel who ranks in the top ten walked out of the ring leaving 4 of the top sporting dogs in the remaining placements!!! Blaze goes on to recieve a AWARD OF MERRITT at the 2005 AKC National Specialty. Thank You, Mr Pepper for the honor.
Blaze loves obedience. She started her training at a tender age of 4months. She completed her Advanced puppy training at the tender age of 5.5months. Blaze continued her education and entered her first trials at 7months. Passing two of her PCD legs by the age of 8 months and finishing up her title at the next available trial at 12 months. She didn't stopped there however, in July 2004 Blaze took a second in class with her first leg towards her CD title. Watch for her in CKC obedience rings in the future.
Blaze also is working occassionally in Field. For this beauty queen, the bird has become a issue since her novice mommy failed to train her poperly on the force retrieve. Other then the bird itself she is a reliable retriever and can deliver ANYTHING else to hand.
As a puppy this little girl loved her sports. She was top of her aglity class and loved to work jumps, walks and chutes! Due to our focus in conformation and obedience we have taken a break from the preformance events to allow more time to work in the other venues.
Blaze is PRA pattern B, CEA clear by parentage, Cerf Normal, Thyroid Normal, Heart Normal, Hips
OFA Good
. Blaze was bred to "Maverick" BIS AM CH Fionavar Javahill Topgun WC CD, puppies were born March 19, 2007. From this litter there were 6/7 show quality pups! Unfortunatly we lost one of our show girls destined for a show career on the east coast at 12weeks of age :-( The remaining 5 pups in show homes are "Fern" who will be living in CA at Javahill Kennels, "Miso" who lives in Ontario with Chris Choi, "Mckay" is living in AB with Kerri VanEaton and "Fuego" is living in Quebec with Helen Gauthier. Update (October 2008) Fuego finished his CH in Quebec and will be expecting his first litter soon. Fern was spayed, is a loving companion and a amazing water dog! MacKay finished his Canadian CH with a BPIG and is back at Tollchester Kennels maturing and looking forward to his US debut! Miso has returned to Tollchester Kennels and will be staying with us for a few months until she can find the right home.
Her next litter was born March 18, 2008 of 3 boys and 1 girl by "Sonny" CH KD's Sundance Kid. The litter is showing great potential with 3/4 of the puppies being show potential puppies! "Buddy" is in a loving pet home in Kamloops BC, "Zeus" is co-owned with Christian and Racheal Whalvin in White Rock BC, "Diva" is co-owned by Lisa Porter of Tollwest Kennels in Calgary AB, and "Will" is a gorgeous show male. Update (October 2008) Buddy is neutered and doing great with his owners in obedience! Zeus will no longer be part of our breeding program but he will be a wonderful companion. Diva will be entering he first show in November in Alberta! and Will has decided to stay at Tollchester Kennels :oD

| | |
| --- | --- |
| HIC, BPIS, RBIS, BIS CAN AM CH Tollwest Blaze Of Fire PCD CGC CGN | |